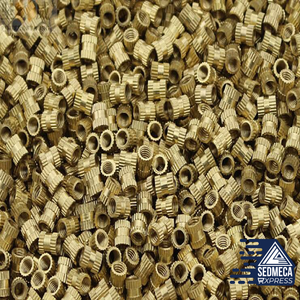 These knurled threaded insert embedment nuts are made of durable copper.

Female thread knurled nuts are suitable for mounting into tapered holes by heating or for molding during injection molding.

Our nuts are all made according to standards, with clear and deep threads, small tolerances, standard round shapes, so they are easy to install.

The surface of the nut is clean and free of burrs and will not harm other parts.

Our nuts are widely applied in laptop plastic housings, 3D printers, automotive, electrical injection molding, and all kinds of plastic casings.
Item specifics
Material: Copper
Model Number: M2 M2.5 M3
Brand Name: VIDONIA
is_customized: Yes
DIY Supplies: ELECTRICAL
Type: Knurl Nut
OK all right again quite sincere thanks for that.