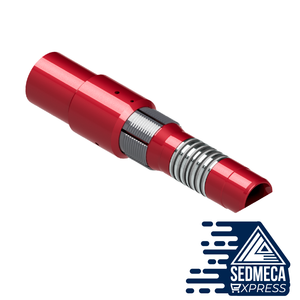 Description
The Annular Vent Valve is made up to the top of a packer and is a hydraulically operated type valve designed to vent the volume of gas built up below the packer in Electrical Submersible Pump applications. This allows the Electrical Submersible Pump to run in optimum conditions, increasing run life and maintaining well production.
The valve is opened by applying positive hydraulic pressure through a control line from the surface and closes when the pressure is removed. There is an optional Bypass Sleeve, which can be activated by applying pressure to the annulus, thus providing full communication across the packer. The value at which the Bypass Sleeve activates is predetermined and Field adjustable with the use of shear pins.
Application 
Electrical Submersible Pump (ESP) Installations.
Slim-Line Design.
Allows the venting of any gas build-up from below the packer to the upper annulus.
Materials to suit all well environments.
Available in multiple configurations.
Valve is opened and closed through a hydraulic control line to the surface.
Benefits
Adapts to multi-port packers.
Vents gas build up from below the packer during ESP operation.
Allows fluid level below packer to be maintained at optimal levels for ESP operation.
Optional Bypass Sleeve can be activated to allow full communication between the upper and lower annulus.
Field adjustable sheer value for Bypass Sleeve operation.
Optional thread makeup connections.