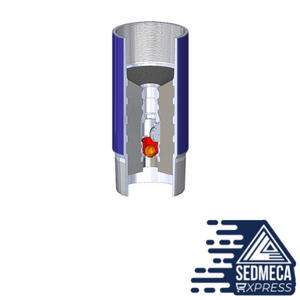 Description
The AutoFill Float Collar permits the casing to fill automatically while being run into the hole. The valve is in the open position while running allowing the maximum filling of the casing as it is lower into the wellbore. This is especially effective on liner jobs and sensitive whole conditions. The circulation may be established at any time during or after the casing is run. 
Features
Single Flapper valve design.
Valve is run in hole open allowing the casing to completely fill.
Converted to conventional one-way check valve by dropping a ball and pressuring up to the release of the flapper.
Until the conversion ball has been dropped, the casing can be circulated at any time without affecting the fill-up operation.