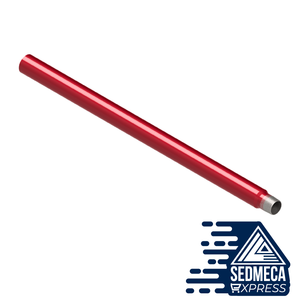 Description
The Blast joints are commonly installed as part of the tubing string and are placed adjacent to perforations or other sections of the wellbore where production inflow will take place. Blast joints have thick walls to protect the tubing from erosive blasts of fluid containing abrasive debris and solid particles through the inflow of gas. 
Full tubing ID is maintained through the blast joint. The Blast Joints are sized to help prevent tubing damage from the jetting action of the zone perforations. The blast joint is used in multiple-zone wells in which the tubing extends past a producing zone to deter the erosional velocity of the produced fluids and formation sand from cutting through the tubing string. In most cases, the blast joint is simply a thick, heavy wall joint of steel pipe. However, there are also more sophisticated designs that use materials such as Carbide® for severe service applications. Care must be taken when running and spacing out the tubing string to position the blast joint evenly across the open perforations. It is wise to run enough length of blast joint to provide 5 to 10 ft of overlap across the perforations to allow for errors in tubing measurements.
Application
Heavy walled tubing joint (Tubing ID, Coupling OD).
Prolonging the life of the well's completion.
Usually installed adjacent to perforations or areas of inflow.
Benefits
Full bore tubing ID.
Available in 6, 8, 10, and 20-foot lengths as standard.
Available in various metallurgies.
All tubing sizes and ranges.