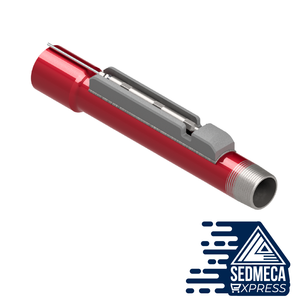 Description
The Praxis Chemical Injection Mandrel provides operators with precise wellbore chemical management that is designed to optimize flow assurance and production performance and reduce expensive intervention.  The welded pup joint mandrel is designed for use in lower-risk environments such as shallow sets, non-deviated wells, or land applications. 
The product shown features a single point of injection and based on the well's environment it may be necessary to stack multiple valves to either establish the necessary volume or to comingle chemicals for optimum protection.
The chemical injection mandrel is made up of the completion string with the appropriate connection to the surface chemical injection system.
The Chemical Injection valve check valves, provide checks (one hard seat and one soft seat). In the case of dual checks, there is additional redundancy built into the valve. The connection to the chemical injection line uses primary and backup metal-to-metal ferrules to provide improved sealing and physical strength. Burst disc options are available to allow continual verification of control line pressure integrity during installation. The check valve is available with different cracking pressures and can be supplied with externally pressure testable connections to reduce rig down-time.
Praxis can also assist with the supply of Chemical injection lines procured from our Approved Vendors List and are available in 316 Stainless Steel and Inconel® 825 alloy as standard, with tubing sizes and wall thicknesses to suit all applications. The chemical injection lines are typically encapsulated or in a bundled configuration. Lines are supplied fluid-filled, flushed, and filtered to the client's required cleanliness standard. Standard cast or pressed steel cable protectors are used to secure the control lines while running in the hole. Installation Services Multi-line spooling can be provided, including all necessary spooler units, hydraulic slip rings, pumps, filters, and sheave wheels upon customer request and subject to location and requirement.
Applications
Scale
Asphaltenes
Emulsions
Hydrates
Foaming
Paraffin
Scavengers
Corrosion
Benefits
Maintains flow assurance.
Optimizes production performance.
Helps reduce costly intervention.
Solid-body design eliminates longitudinal welds, which makes the mandrels ideal for applications in superior strength, and increased pressure capabilities are required.