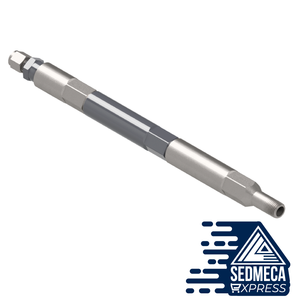 Description 
Praxis's range of chemical injection valves allows a modular approach for the injection of chemicals at any point in the tubing string while overcoming the pressure and temperature effects of the well. The injection valves can be configured with single or multiple check valves to provide additional safety and redundancy.  The valves are installed on the surface and are mounted externally to the appropriate mandrel.  Our most common check valve configuration incorporates a dual valve system and a burst disc (customer specified rating) to protect the valves while running in a hole.
Chemical injection valves have been designed and supplied to cover tubing ranges from 2-3/8" top 7" with pressures up to 15,000 psi and temperatures up to 450 degrees Fahrenheit, and injection points into the production/injection tubing or the annulus. A wide range of materials is available to suit reservoir conditions, including extremely sour environments.
The Chemical Injection valve check valves, provide checks (one hard seat and one soft seat). In the case of dual checks there is the additional redundancy built into the valve. The connection to the chemical injection line uses primary and back-up metal-to-metal ferrules to provide improved sealing and physical strength. Burst disc options are available to allow continual verification of control line pressure integrity during installation. The check valve is available with different cracking pressures, and can be supplied with externally pressure testable connections to reduce rig down-time.
Application
Scale
Asphaltenes
Emulsions
Hydrates
Foaming
Paraffin
Scavengers
Corrosion
Benefits
Modular
Maintains flow assurance.
Optimizes production performance.
Helps reduce costly intervention.
The injection lug is protected by welded guide-rails for added protection of injection line termination.