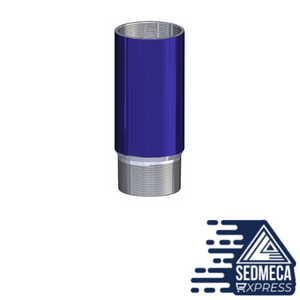 Description
The cement-filled Float Collar is fitted with API RP 10F CAT IIIC qualified valve as standard, the collar can be ordered with a single, double Valve. 
The float collar is installed near the bottom of the casing string. Cement plugs land on it during the primary cementing operation, thus retaining inside the casing a small portion of the cement slurry that may have become contaminated as the top plug scrapes the inside of the casing. It is similar to a float shoe; often both are used for redundancy. The internal check valves may be flapper-type or spring-loaded balls.
The check-valve assembly fixed within the float collar prevents flow back of the cement slurry when pumping is stopped. Without a float collar or float shoe, the cement slurry placed in the annulus could U-tube, or reverse flow back into the casing. The greater density of cement slurries than the displacement mud inside the casing causes the U-tube effect.
Features
Fitted with high flow phenolic Float Valve tested in accordance with API RP 10F CAT IIIC test procedures.
Tightly controlled cementing process for valve installation.
Cement tested for compressive strength & pressure retention.
In-house manufacturing capabilities at global manufacturing facilities.
Options
Standard 5,000 & high pressure 10,000 PSI valves.
Single & double valves are available.
Auto-fill option is available.
Ball deflector/ball catcher options.