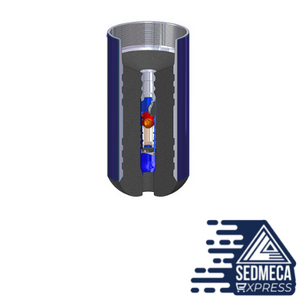 Description
The Differential fill-up Shoe is provided with a differential valve. Differential fills up Float equipment 90% casing fill up during run-in use of Differential Collar with Shoe provides additional buoyancy by allowing only 81% casing fill up further enhancing draw work efficiency.  
This kind of design maintains constant differential pressure between the inside and outside of the casing because of the entry of fluid through the bottom of the casing. It is ready to be running in the hole.
Features
The operation of the valve is controlled by the differential pressure across the valve assembly.

Converted to conventional one-way check valve by dropping a ball and pressuring up to release the upper flapper and lock the lower sleeve.

Until the conversion ball has been dropped, the casing can be circulated at any time without affecting the fill-up operation.