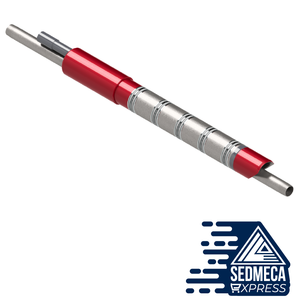 Description
Located within the twin flow head on the short string side is a P-XN landing nipple profile.  The dual-flow assembly is supplied with two upper pup joints on the long and short strings and one lower pup joint on the long string. The full assembly is pressure tested in the Praxis workshop prior to shipping. 
Field pressure testing of the dual flow assembly can be carried out but requires a P-XN plug or test tool to allow testing of the short string. When the dual flow assembly approaches the liner tie-back PBR records pick-up and slacks off weights. Run in the hole very slowly watching for drag (1000-2000 lb) to indicate that the seals are entering the PBR. The seals will pass ten feet into the PBR before the upper end of the dual flow assembly bottoms out on the top of the PBR. Set down weight to confirm that the seals are fully stabbed and mark the tubing at the rotary table to allow space-out. Slowly pull the seals out of the PBR and pull out of the hole far enough to space out the tubing hanger and tubing strings. It will be necessary to install adjustable unions in the long and short strings to allow the tubing strings to align and make up to the tubing hanger. With the tubing, the hanger installed a run-in hole slowly to re-stab the seals and land the tubing hanger. The dual-flow head is retrieved with the long and short strings. As the tubing strings are pulled the dual flow assembly will be pulled from the tie-back PBR and retrieved to the surface. 
Application 
Designed to allow two zones of an oil well to be produced simultaneously without co-mingling the fluids.
The dual-flow assembly is run into the well on two tubing strings.
The short string terminates at the top of the assembly while the long string passes through the assembly and connects to the lower completion.
Nipple allows the tubing bore to be pressure tested or plugged as desired.
Benefits
Oil from the lower reservoir passes up through the long string.
Oil from the upper reservoir enters the casing string below the dual flow head and passes up the short string.
The external stinger seal assembly on the dual flow head seals off inside a liner hanger ties back PBR preventing the upper produced fluid from accessing the production annulus.