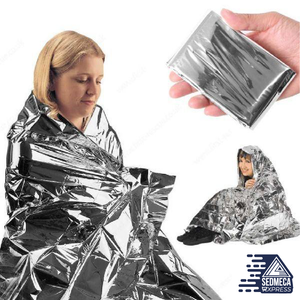 Emergency blanket lifesaver dry outdoor first aid survive thermal warm heat rescue mylar kit bushcraft treatment camp space foil 
OUR MYLAR SURVIVAL BLANKETS – Individually wrapped in a re-sealable protective bag. Always keep some in your car, first aid kit, emergency kit, backpack, jacket pockets, bug-out bag, hiking gear, hunting supplies, fishing tackle box, or camping gear. The pack of four comes in a small box that can easily be stacked.

LARGE DUAL SIDED SURFACE – Dimensions of 82" x 52" can accommodate up to 6' 5" tall adults, very lightweight, durable, and reusable 12-micron aluminized polyethylene mylar. Thicker than most brands.

EFFECTIVE IN ALL SITUATIONS - Weather-resistant, windproof, waterproof, and excellent for rescue signaling in an emergency.

HOW TO USE YOUR SPACE BLANKET: Wrap in it for extra warmth, insulation layer in a sleeping bag, improvised rain poncho, effective cooling sunshade, rain shelter, catching rain, and storing for emergency water supply, fishing lure, sling, tourniquet, waterproof cover for gear.

100% GUARANTEED – We offer a risk-free LIFETIME & SATISFACTION WARRANTY. Includes a comprehensive list of uses for your thermal blanket, a survival kit checklist, and a free VIP membership to The Atomic Bear Academy.
Complies with the description.
To see the use...
Thank you
Complies with the description.
To see the use...
Thank you
Which the seller says, now to test it at low temperature.