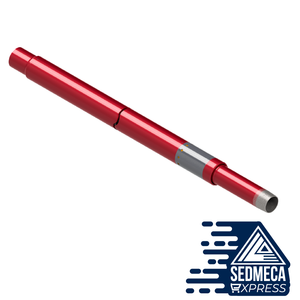 Description
The Expansion Joint is made up within the completion tubing string to accommodate for tubing expansion and contraction during well operations and production. The splined configuration of the tool can be initially configured in either the collapsed, mid-stroke, or fully extended position by installing shear pins. The value at which the shear pins will operate is field adjustable. 
Application 
Accommodates expansion and contraction of tubing length resulting from temperature or pressure cycling while maintaining pressure integrity of the tubing string.
Wells Testing.
Dual Completions.
Pressure ratings up to 15,000psi.
Materials to suit all well's environments. 
Benefits
5ft, 10ft & 15ft Stroke length as standard.
Available in Splined and Non-Splined configurations.
Splined configuration allows torque to be transmitted through the tool.
Splined configuration can be set fully stroked, mid-stroke, or fully collapsed with shear pins.
Additional option for pinning positions at 1ft intervals.
Adjustable Shear Value of setting position with splined configuration.
Available in multiple tubing sizes and connections.
Full tubing drift access.