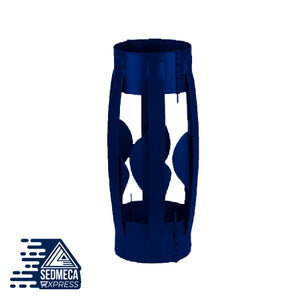 Description:
Welded Turbolizer has deflector blade fitted on standard bow spring which creates a difference from the standard centralizers. The End Collars are designed with a reinforcing Rib stamped into the End Collar to give maximum structural toughness Another special characteristic is the built-in Stop device on the leading End Collar. The metal fins are installed on the bows, to help induce turbulence in the cement slurry during pumping operation. The spring action of blades makes them flexible, which minimizes damage while moving downhole. 
Features:
The device improves the cleaning action of Drilling Fluids. Distribute the cement slurry into Wellbore irregularities and minimize channeling.
Special Iron Phosphate coating process to prevent Rust and ensures stocking in the open for a long time.
These are shipped in half assembled condition for economical freight and storage costs
Supplied with a stop collar and hinge pin.