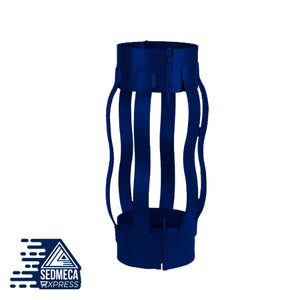 Description:
Hinged Welded Semi Rigid Centralizer ensures high efficiency in a casing. Welded Centralizer has more Restoring Force as compared to Non-Weld Centralizer. The Centralizers have a double-crested Bow Spring strongly welded to the End Collar under the required temperature. 
Features:
It has a high Restoring force and high Stand-Off with low running force.
Special Iron Phosphate coating process to prevent rust and ensures stocking in the open for a long time.
These are shipped in half assembled condition for economical freight and storage costs.
Supplied with a stop collar and hinge pin.