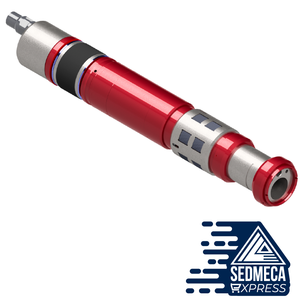 Description
This hydraulically set, retrievable packer is designed for ESP wells with no movement of the packer relative to the control lines or power cable during setting or retrieving. The packer is made up of the tubing string at a point above the ESP or Artificial Lift system. The packer is made up of the tubing string and runs in the hole to the set depth. 
An anti-preset function prevents the packer from accidentally setting while running in the hole. The packer is set by applying hydraulic pressure against a plugging device in the tubing string below the packer. During setting, the slips and seal elements are forced against the casing wall, anchoring the packer in place and creating a pressure-tight seal. Multiple retrieval methods are offered, however, once the packer has been released a direct pull on the tubing string allows the seal elements to decompress and the slips to retract. The anti-preset mechanism has an additional function where it locks the packer in the release position, thus preventing it from resetting while pulling out of the hole. This allows the packer to be pushed/pulled without the danger of slips resetting. 
Application
ESP completions.
Retrievable production annulus pressure barrier.
Ties the production tubing to the production casing for zonal isolation.
Optional Release features – Pull, Cut, Control Line, Shift Sleeve.
Up to 10,000 psi working pressure.
Sizes to suit 4-1/2" to 13-3/8" casing.
Materials to suit all well's environments.
Available in multiple configurations. 
Benefits
Accepts all types of penetrator systems.
Compact design.
Single piece mandrel with no leak paths.
No movement between tubing/casing during setting.
Available with multiple size combinations for casing and tubing sizes.