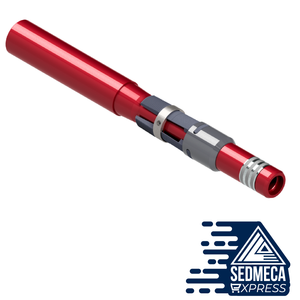 Description 
These system components when used in conjunction with the ISOPAX Slimline ESP Packers allow a full ESP system with penetrator to be installed inside 4-1/2" tubing sizes and above.  The ISOPAX Slimline ESP Packers are among the slimmest on the market, helping them glide through the doglegs common in hastily drilled wellbores.
Their narrow profiles also enable them to pass through side-tracks to revive production in nonproducing wells and create options for the operator to manage their old well stock and revitalize brownfield or shut-in wells. They can also be run in larger casing sizes for multizone production and for injecting and producing through the same wellbore. The process is fast, reliable, and can be carried out under live-well conditions—eliminating the need to kill the well. The thru-tubing system is deployed through a surface lubricator and lowered inside the existing production tubing. The thru-tubing completion system can be easily retrieved using only the ESP cable. So, it can be used temporarily to keep production flowing and then removed when a replacement ESP arrives. Or it can be left in the hole permanently as the replacement, providing a way to extend the economic life of wells that would otherwise be plugged and abandoned due to workover and rig costs. This technology also reduces health and safety risks. Instead of the full crew needed to run a rig during tubing-deployed completion replacement, the Thru-Tubing system can be deployed with only three or four onboard personnel. 
Application
Conventional wells.
Offshore and remote wells.
Brown and green fields.
Wells unloading and testing.
Thru-tubing ESP production.
Temporary and permanent production.
Cost-effective replacement for the gas lift in offshore wells.
 Benefits
Cable-deployed, cable-retrievable thru-tubing completion design enables running through the existing wellhead without killing the well.
Modified slackline equipment eliminates the rig, reduces the footprint, and cuts the number of required personnel.
The system produces through existing tubing, reducing risk, time, and cost.
The system can be used temporarily to keep production flowing, or remain downhole permanently.
Ringless design can include ESP's, subsurface safety valves, and other required completions tools.
Slim OD enables the system (with your chosen slimline ESP provider) to pass through deviations.
Deployed on a slackline or e-line ringless.
All components are historically proven.
All items can be retrieved from the well on the slackline, redressed, and run again with new completion.