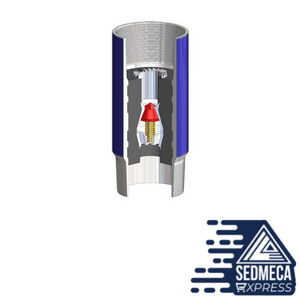 Description 
The Non-rotating Float Collar is attached to the end of the casing string and they are used to stop slurry from flowing back. The material inside is easily drillable; the anti-rotation mechanism on the top improves drill-out performance. The valve consists of rubber and polymer materials with high tensile strength.
The Non-rotating Float Collar is fitted with API RP 10F CAT IIIC qualified valve with a Non-Rotating insert the collar can be ordered with a single, double Valve.
Features
Fitted with high flow phenolic Float Valve tested in accordance with API RP10F CATIIIC test procedures.
Complete with Non-rotating insert to be compatible with Non-Rotating Plugs only.
Tightly controlled cementing process for valve installation.
Cement tested for compressive strength & pressure retention.
In-house manufacturing capabilities at global manufacturing facilities.
Options
Standard 5,000 & high pressure 10,000 PSI valves.
Single & double valves are available.
Auto-fill option is available.
Ball deflector/ball catcher options.