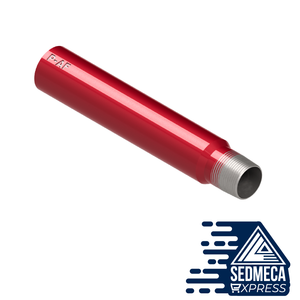 Description
The P-AF Top No-Go Seating Nipple provides for the location of various wireline flow control devices in the production string. The nipple's no-go shoulder is used to help locate and set the Lock, but it is unloaded once the setting operation is completed.
The top no-go seating nipple is designed to accept only those top no-go type locks which carry the same letter designations as the seating nipple, either Model "P-AF" or "P-HF" depending upon the required pressure rating. The location and number of top no-go seating nipples should be carefully considered in the completion planning stages to allow maximum versatility in the positioning of various flow control accessories. These nipples are manufactured per NACE specification MR-01-75 (latest revision). 
Application
Land blanking plugs to shut in the well or to test the production tubing.
Land velocity type safety valves (SS-CSV).
Land equalizing check valves.
Land circulating blanking plugs.
Land chokes to reduce surface flowing pressures or to have pressure drops downhole to prevent surface freezing in gas production.
Benefits
Manufactured from 9CR-1MO (18-22RC max) for H2S – recommended CO2 service (other materials available).
Has honed sealing bores for maxi-mum sealing performance.
Land instrument hangers with geophysical devices such as pressure and temperature recorders.