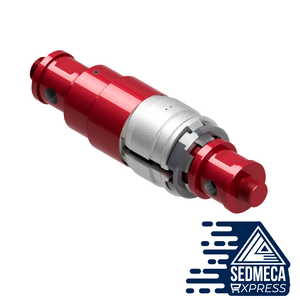 Description  
The PRAXIS P-B Shifting Tool is a wireline service tool used to actuate a Sliding Sleeve into the 'open', 'equalizing' or 'closed' position depending on the shifting tool orientation. The P-B Shifting Tool consists of standard sucker rod connections at either end and spring-loaded locating keys.
The keys are designed to locate automatically in the shifting profile of the inner sleeve and automatically release when the Sliding Sleeve is fully 'opened' or 'closed'. In the event that the Sleeve cannot be actuated, and the shifting tool is unable to automatically disengage, the Shifting Tool will utilize its emergency shear release feature. This feature causes the locating keys to collapse and release from the shifting profile. The P-B Shifting Tool is fully re-dressable at the surface and can be oriented in the opposite direction to reopen/re-close an equalizing device. The PRAXIS P-B Shifting Tool is manufactured from Low Alloy Steel as standard; however, alternative material configurations are available upon request.
Application
Actuating Sliding Sleeves and other equalizing devices.
Benefits
Self-Releasing Keys.
Orientation of Tool enables dual functionality.
Emergency Shear Release feature.