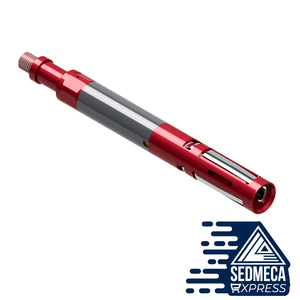 Description  
The PRAXIS P-S Series Running/Pulling Tools are designed to engage external fishing necks within the wellbore.
P-S Series Running/Pulling Tools are available with three different core lengths, sized to accommodate the different reach lengths on industry-standard fishing necks, these are categorized for easy reference; the first letter 'S', designates that the tool is a jar down to release type. The second letter designates the effective reach, based on the core length:
'B' designates a long core, short-reach
'S' designates a medium core, medium reach
'J' designates a short core, long reach
The P-S Series Running/Pulling Tool can be used both to Run and to Pull tools once engaged on an external fishing neck; a downward jarring action will shear the internal pin to release the spring-loaded dogs and allow the tool to be retrieved. The PRAXIS P-S Series Running/Pulling Tools are supplied with industry-standard sucker rod connections and are manufactured from Low Alloy Steel as standard; however, alternative material configurations are available upon request.
Application
Running/Retrieval of sub-surface devices.
Benefits
Spring Loaded Dog Set.
Shear Release feature.