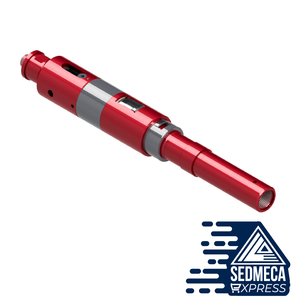 Description 
The PRAXIS P-X & P-R Line Running Tools are designed to run, locate and set P-X/XN or P-R/RN Lock Mandrels, and other subsurface flow control devices, into the appropriate landing nipple. These Running Tools can be configured to be run in the 'Selective' or controlled 'Non-Selective' position.
The P-X & P-R Line Running Tools are attached to the Lock Mandrel prior to being run, and are made upon a standard slick line tool string. In the 'Non-Selective' mode, the Lock Mandrel keys will locate in the first corresponding sized nipple whereas when run in the Selective position the Lock can be run through numerous nipples before successfully locating and landing. When running a P-XN or P-RN profile Lock Mandrel the tool is considered 'Non-Selective' by default; and it will locate against the first no-go shoulder in the landing nipple.
The P-X & P-R Line Running Tools are assembled to the Lock Mandrel at the surface. The Core of the Running Tool is shear pinned to the Lock Mandrel and the Lock is held in the extended position by the lug segments. The Running tool incorporates spring-loaded dogs, which are designed to pass through multiple seal bores until the desired landing nipple is reached; for 'Selective' operations the dogs will tag the target nipple and pull the Running Tool and Lock from the 'Selective' position into the 'Non-Selective' position downhole as the string is picked up through the seal bore.
The Running Tool and Lock is then lowered again in the 'Non-Selective' position until the keys locate. Downward jarring will shear the internal pin in the Running Tool and drive the Lock Mandrel into the set position. Releasing the Running Tool requires upward jarring to shear the pin connecting the Running Tool to the Lock Mandrel. If the Lock is not properly set in the Nipple then the pin will be unable to shear.
The PRAXIS P-X & P-R Line Running Tools are supplied with industry-standard sucker rod connections and are manufactured from Low Alloy Steel as standard; however, alternative material configurations are available upon request.
Application
Running of P-X/XN or P-R/RN Lock Mandrels and subsurface devices.
Benefits
'Selective' and 'Non-Selective' Running configurations.
Fail-Safe Release Feature.