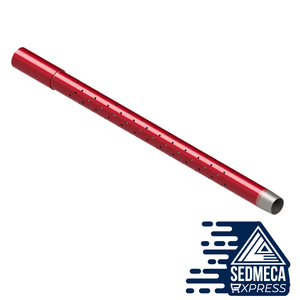 Description 
The Praxis Perforated Pup Joint may be incorporated in the completion string for the purpose of bypass flow if bottom hole pressure and temperature gauges are used for reservoir monitoring. The design criteria for a perforated joint is that the total cross-sectional area of the holes should be at least equivalent to the cross-sectional area corresponding to the internal diameter of the tubing.
In wells flowing large volumes, a restriction in the tubing such as a gauge hanger could cause false pressure readings. Vibrations due to flow could also cause extensive damage to delicate gauges, therefore a perforated pup joint (approx. 10ft length) set above the bomb hanger nipple would allow flow to pass unrestricted over the gauges and hanger, thus giving a more accurate pressure/temperature recording within the limitations of the gauge.
Application
The Praxis Perforated Pup Joints are available with standard or special perforating spacing.
Optional pa t- terns, hole size, and lengths are available upon request.
Benefits
Full bore tubing ID.
Available in 6, 8, 10, and 20-foot lengths as standard.
Available in various metallurgies.
All tubing sizes and ranges.