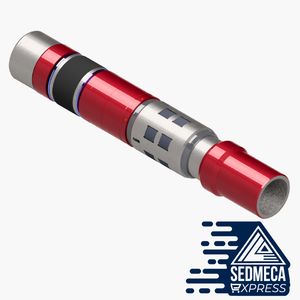 Description 
Permanent packers can be removed from the wellbore only by milling.  The permanent packer is fairly simple and generally offers higher performance in both temperature and pressure ratings than does the retrievable packer. In most instances, it has a smaller outside diameter (OD), offering greater running clearance inside the casing string than do retrievable packers.
The smaller OD and the compact design of the permanent packer help the tool negotiate through tight spots and deviations in the wellbore. The permanent packer also offers the largest inside diameter (ID) to make it compatible with larger-diameter tubing strings and mono bore completions. The Praxis ISOPAX Permanent packer was developed to meet operators' needs for tubing pressure settings with the required load and temperature ratings. They are used in a variety of applications, including high H2S and CO2 exposure. Praxis ISOPAX Permanent packers come with API11D1 V3 as standard and V0 can be supplied based on customer-specific requirements.
Application
Permanent Production Annulus pressure barrier.
Ties the production tubing to the production casing for zonal isolation.
Sizes to suit 4-1/2" to 13-3/8" casing.
Materials to suit all well's environments.
Available in multiple configurations.
Benefits
Millable
ISOPAX Proven Features: Anti-Preset, Anti-Drag, Anti-Lock-Out.
Compact design.
Single piece mandrel with no leak paths.
No movement between tubing/casing during setting.