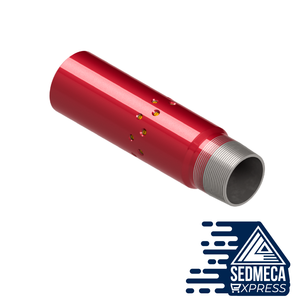 Description
The Ball Type Pump-Out Plug provides a reliable means of temporarily plugging a tubing string in order to set hydraulically activated tools or equipment such as packers. The Ball Type Pump-Out Plug incorporates a setting ball and a valve seat, which is located with shear pins. 
There is a hole through the valve seat, which allows the tubing string to fill as the completion is run. After activating the hydraulic tools/equipment the ball and valve seat are expended into the well's annulus/sump leaving full bore tubing ID through the assembly and a wire-line entry guide to facilitate the smooth passage of tools. Shear out pressure for the ball and valve seat is selectable depending on shear pin settings.
Application
Bridge in the tubing to set a packer in single and dual completions.
Activating hydraulic tools or equipment.
Provides a tubing plug without any well's intervention.
Allows well to be circulated during the running of completion.
Materials to suit all well environments.
Benefits
The full bore of tubing ID after ball and seat are pumped.
Available in standard and premium materials.
Optional bronze or other material balls.
Variable shear out pressure.