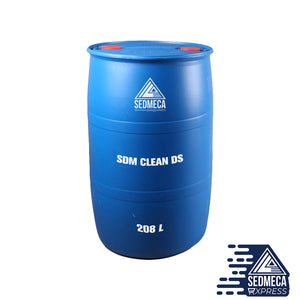 Description
SDM CLEAN DS is a blend of powerful solvents and water-wetting surfactants used to effectively remove oil- and synthetic-based mud residues during well displacements. The single-drum solvent/surfactant additive effectively dissolves and disperses synthetic-based and oil-based mud (SBM/OBM) residues leaving casing and pipe surfaces clean and water-wet in one pass. 
Physical Properties
Appearance................. Straw to pale yellow liquid
Solubility................................  Miscible with water
Flash point (°C) ........................................... 50 – 60
Specific gravity @ 20°C .........................  0.90 ± 0.1
Applications
SDM CLEAN DS is designed for downhole use in oil and gas wells to clean up SBM and OBM during well displacements. It is a fast-acting single-drum cleanup additive that quickly dissolves, disperses nonaqueous mud residues and water wets casing and pipe surfaces. 
The combined action of the powerful solvent and water-wetting additives in SDM CLEAN DS provides complete removal of OBM/SBM residues and water-wet surfaces, without requiring a second surfactant spacer. It is compatible with freshwater, seawater and brines. The product should be used as a spacer and pumped in turbulent flow for optimum results.
Recommended concentration for most applications is between 5 and 20% in water, seawater or brine. Optimum concentration will 
depend on level on the concentration of oil and solids in the mud and the degree of cleaning required. Pilot testing is recommended for determining optimum concentration. It can also be used neat or diluted in suitable hydrocarbon solvent for heavy oil removal.
Presentation / Packaging
SDM CLEAN DS is packaged in 55-gal (208-L) drums.