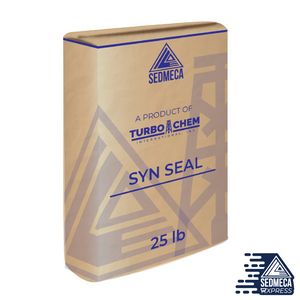 It is a chemically modified phenolic resin composed of fine cellulose fiber that does not contain any derivatives of asphalt. Develops a "tension cage" effect and any differential pressure load is transferred onto the wall cake in the well, instead of the load exerting pressure on the fracture point, decreasing the probability of spread and increasing losses. 
APPLICATIONS
It mixes easily through the hopper and has minimal losses on the screens of vibrating equipment (shale shaker screen) and solids control equipment.
SYN-Seal has a secondary benefit of improved stability over fluids of emulsion.
Used in system treatments, such as remedial pills or pills swept.
As a preventive maintenance solution (Active System Treatment)
It operates at a high level when pressures and temperatures are high, due to the reaction of phenolic resin. It also works well at low temperatures.
Used in wells with extended horizontal reach.
Highly efficient in sealing micro-fractured formations minimizing well instability situations.
A single bag of resin produces phenomenal performance at very high low concentrations.
BENEFITS
Compatible with all mud types/systems and provides excellent sealing for fractures of various sizes.
Excellent filtration control and loss of circulation without damaging the rheology of the sludge.
Reduces differential adhesion tendencies in low-pressure sands.
RECOMMENDED TREATMENT
System Treatment: 6 - 10 ppb
Sweep Pills: 5 - 10 ppb
PHYSICAL PROPERTIES
Appearance................................................................................................................ Dark Gray Powder
Ph (1% solution) ……………….........................................................................................................… .. 6- 8
Specific gravity (g / mL) ………….....................................................................................................… 1.56
Odor …………………………………………………………………………………………………………………………………………. Light
Particle size D50 ...................................................................................................................... 82µ - 90µ
PRESENTATION / PACKAGING
Available in 25-pound bags. 50 bags per pallet. (Referential Image)