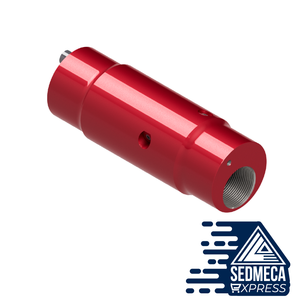 Description 
The Tubing Vent Valve (TVV) is made up of the tubing string at a depth that allows the gas vent feature which is controlled via a control line to surface to be "fail-safe" and provide adequate shut-in of gas in the event that hydraulic capability is compromised.
In deep-set applications, it is not possible to use a standard gas vent valve (piston or sleeve type) due to the setting depth limitation so the TVV was developed to address this by removing the gas venting capability to a more shallor point in the tubing string. Communication of gas from below the packer, passed through a 3/8" or larger control line or line pipe from the packer body to the TVV mounted at shallow depth in the wellbore above the packer and is a hydraulically operated type valve designed to vent the volume of gas built up below the packer in Electrical Submersible Pump applications. This allows the Electrical Submersible Pump to run in optimum conditions, increasing run life and maintaining well production. 
The valve, constructed inside the TVV, is opened by applying positive hydraulic pressure through a control line from the surface and closes when the pressure is removed.
Application
Electrical Submersible Pump (ESP) Installations.
Tubing deployed as part of the production string.
Allows the venting of any gas build-up from below the packer to the upper annulus.
Materials to suit all well environments.
Available in multiple configurations.
Valve is opened and closed through a hydraulic control line to surface.
Benefits
Allows adequate gas removal and prevent pump failure due to gas locking.
Adapts to multi-port packers.
In tight applications it improves the geometry at the packer.
Allows fluid level below packer to be maintained at optimal levels for ESP operation.
Optional thread makeup connections.