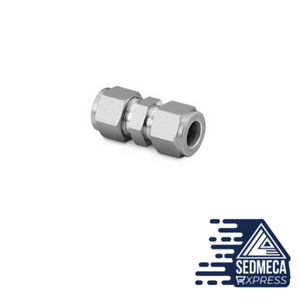 Stainless Steel Pipe Fitting, Monel Pipe Fitting, Inconel Tube fitting, Hastelloy Tube fitting & Brass tube fitting. Tube Fittings in Single and Double.
High-quality Compression Tube Fittings. Meet the customers' ultimate requirements in the field of:
GAS & OIL PIPELINES.
MARINE & OILFIELD INDUSTRY.
CHEMICAL & PETROCHEMICAL INDUSTRY.
OFFSHORE FACILITY.
PAPER SUGAR & CEMENT FACTORIES.
VARIOUS OTHER PROJECTS.
Tube fittings connect runs of tubing (for in-line, offset, multi-port, and mounting configurations) to other tubing sections, pipe, hose, or other components. Systems are typically configured with straight sections connected by fittings or specially formed connections and joints.
Applications:
Hydraulic applications involve the transfer of liquid fluids such as water and other chemical solvents. Hydraulic fittings must have seals that prevent the leakage of liquid and often be resistant to rust or other possible chemical corrosion.
Pneumatic applications involve the transfer of gases. Pneumatic fittings must have very tight seals to prevent gas leakage and must be resistant to chemical corrosion.
Other applications
 such as structural design also incorporate tube fittings. These fittings must have strong physical integrity but typically do not require sealing because they do not carry fluids.